Blog
Saskatoon Events for April 2017
Saskatoon Events Calendar – April 2017
Saskatoon has plenty of annual and seasonal events to keep you busy. No matter what your interests, there is something for everyone.
I am happy to provide a schedule of these events for April 2017 in Saskatoon, your city to call home.
April 5 – 9th: 2017 Canadian Mixed Doubles Curling Championship
The 2017 Canadian Mixed Doubles Championship will pay a return visit to the Nutana Curling Club. The Nutana Club played host to the highly successful 2016 edition of the Canadian Mixed Doubles Championship. Canada's top mixed doubles curling teams are hoping to get a step closer to a trip to the 2018 Winter Olympics in South Korea.
Venue: Nutana Curling Club
Address: 2002 Arlington Avenue
Saskatoon, SK S7J 2H5
Time: All Day
Phone: 306-713-0500
Category: Sports Major Sports Events
April 8 – 9th: Saskatchewan Beef Expo
What is the judge looking for?
Saskatoon Prairieland Park Corporation is pleased to present this educational program. The 2017 Saskatchewan Beef Expo will focus on cattle evaluation and selection. Participants will be guided through stations manned by industry experts before showing off their skills in both individual and team judging competitions.
Venue: Prairieland Park
Address: 503 Ruth Street West
Saskatoon, SK S7K 4E4
Time: See website for schedule of events.
Phone: 306-931-7149
saskatoonex.com/beefexpo
Category: Shows & Exhibitions Annual Events
April 10th: An Evening with Alice Kuipers
Alice Kuipers, the award-winning author of '40 Things I Want to Tell You' and 'Life on the Refrigerator Door', is an expert chronicler of the teenage heart, and she takes her work to new heights here. A riveting, high-concept novel with heart, 'Me (and) Me' is about what it feels like to be torn in pieces, and about finally finding out who you really are. Come out and meet Alice at McNally Robinson on April 10th.
Location: McNally Robinson
Address: 3130 – 8th Street East
Saskatoon, SK S7H 0W2
Time: 7:00 p.m.
Phone: 306-955-3599
https://www.facebook.com/events/1858101181142441/
Category: Events & Festivals
April 15th: A Forever Frozen Story
Discover the whole new family show created by Tohu-Bohu Productions. Enjoy an amazing and interactive large-scale musical in the world of Hans Christian Andersen's fascinating tale. Take part in a fantastic journey to the land of winter, a colourful adventure filled with original music, done in the most spectacular staging and presented in front of a dazzling decor. Along with tons of magical characters, your whole family is invited to travel in the heart of an imaginary and enchanted world of song, dance, laughter, emotion and surprises!
Venue: Broadway Theatre
Address: 715 Broadway Avenue
Saskatoon, SK S7N 1B3
Time: 3:00 p.m.
www.aforeverfrozenstory.com/
Category: Concerts & Theatre Music & Entertainment
April 20th: Oh What a Night! Tribute to Frankie Valli and the Four Seasons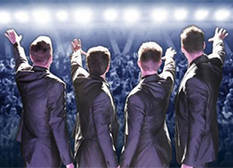 Oh What a Night! is an exciting fast paced musical tribute to the legendary Frankie Valli and the Four Seasons coming direct from Las Vegas, the entertainment capital of the world! Now after six successful years the show continues to be one of the most in-demand musical productions worldwide. Oh What a Night! Is an in-depth musical revue, bringing to life thirty of the Four Seasons' hits. It's a captivating tribute to the songbook of this Rock and Roll Hall of Fame super group with note-perfect renditions of the iconic "Jersey boys"! The show features 4 talented performers singing live that "feel good" music you grew up with that made the name Frankie Valli known around the globe. Songs like "Big Girls Don't Cry", "Sherry" "Working My Way Back To You Girl" "My Eyes Adored You", and "Walk Like A Man" will take you back to an incredible musical era of the past in a high energy, must-see theatrical show.
Venue: TCU Place – Saskatoon's Arts and Convention Centre
Location: Sid Buckwold Theatre
Address: 35-22nd Street East
Saskatoon, SK S7K 0C8
Time: 7:00 p.m.
tcuplace.com
Category: Concerts & Theatre Music & Entertainment Dining
April 21 – 23rd: Artist's Workshop Show and Sale
The Artists' Workshop is a group of visual artists juried for membership to ensure the group's artistic quality as well as diversity of style and media. Group members focus on painting and drawing with forays into collage, paper sculpture and mixed media.
Location: Grace West Minster Church
Address: 505 10th Street East
Saskatoon, SK
Time: Friday- 7:00 p.m. – 9:00 p.m. Saturday- 10:00 a.m.- 5:00 p.m. Sunday- 12:00 p.m.- 4:00 p.m.
Phone: 306-270-8600
artistsworkshop1.wordpress.com
Category: Shows & Exhibitions
April 27 – 28th: Big Stuff
This high-energy, colourful and entertaining "super group" is widely known as a collection of some of the most seasoned and versatile musicians, vocalists, and entertainers in Saskatchewan. Big Stuff celebrates the incredibly innovative and formative years in music history, paying tribute to the Motown and R&B music of the '60s and the rock 'n' roll, pop, and disco hits of the '70s. Sponsored by Lucky Bastard Distillers
Venue: The Bassment – Saskatoon Jazz Society
Address: B3 202-4th Ave. N.City: Saskatoon, SK S7K 0C1
Time: Thursday – 8:00 p.m. Friday – 9:00 p.m.Admission: $22/$27
Recurrence: Recurring daily
Phone: 306-683-2277
thebassment.ca/event/big-stuff/
Category: Music & Entertainment
April 28 – 29th: Motorsports Spectacular
Get ready Saskatoon for the thrill of your life when The Motorsports Spectacular returns to SaskTel Centre for three exciting shows on April 28 and 29, 2017. The Motorsports Spectacular is an edge of your seat, super-exciting, thrill-a-minute, live exhibition of motorsport events and death-defying stunts. This exciting family event will feature:
The Monster Truck Challenge: This features five of the World's toughest Monster Trucks. With this outstanding line-up of monster trucks it will be a car crushing Monster Truck Challenge no one will forget.
Motocross Arena cross: Witness the awesome high flying motocross action by expert drivers with nerves of steel racing on the challenging and dangerous SaskTel Centre Arena cross track and also back by popular demand the Radical Jump Contest.
Canadian Tuff Truck Competition: See the toughest drivers in the toughest trucks in a nail biting thrill as drivers and truck race against the clock on the rugged Tuff Truck Track.
Free Style Motocross – Radical Jump Showcase: Back by popular demand the SaskTel Centre Motorsports Spectacular will feature Extreme Freestyle jumping off of high performance jumps. This event will bring some of Canada's top performance jumpers in a Radical Jump showcase.
Venue: SaskTel Centre
Address: 101-3515 Thatcher Avenue
Saskatoon, SK S7R 1C4
Time: Friday 7:00 p.m., Saturday 1:00 p.m. and 7:00 p.m.
Phone: 306-938-7800
sasktelcentre.com
Category: Events & Festivals
I hope you and your family can get out to take in some of what Saskatoon has to offer this April. Stay tuned for Saskatoon Events – May 2017!
Slade Desrochers
Slade Real Estate Inc.
306-222-9992